Dear Shallon,
I'm 17 and have a crush on this super popular guy at school. He's tall, blonde, plays volleyball and is totally gorgeous. He's my best friend's cousin but he never says ANYTHING to me. He's super outgoing and I'm really shy! How can I get him to notice me?
–Medina
My dear Miss M,
It's a pretty good bet that popular guys usually date popular girls. Why is that? Because popular girls catch their attention–that's what makes those girls popular! They're outgoing, fun, happy and not bad to look at, either. When they walk into a room, people notice because they want people to notice them. Their posture, the way they toss their hair, what they wear–it all adds up to them appearing confident and in control.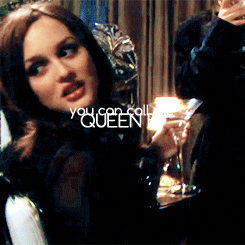 So, that's what you need to become. I'm not saying that you need to try out for soccer just because the popular girls are–you still be you, just…You 2.0!
So the key to being getting his attention is to be his equal, socially. You need to be popular to so he'll notice you. How do you become popular? Be confident! How do you do that? Watch this video
Now that you're stuffed to the gills with confidence, let's put it into action and become the queen bee…
If you follow all of these tips, TRUST ME, he'll notice you. And don't be afraid to strike up a chat with him. Asking a guy questions is a great way to kick off a convo. "So what was my BFF like as a baby? I bet she screamed all the time!" or "Hey did you already take that Chem final, was it super hard or fine?"
Guys like to feel important and asking them questions make them feel that way. So even if these tactics don't end up getting the guy, at the end of the day you'll have revamped your social status and infused yourself with tons of confidence. And to me, that's better than all the blonde volleyball boys in the world